The 3  museums neighbouring Dar Taliwint
For many years Morocco has been one of the favourite destinations for Europeans. This amazing country is praised for its spectacular landscapes, its gastronomy and, of course, its ancestral culture. AmongMoroccan key destinations: Marrakech, its former capital city with its beautiful medina, its colourful souks or its Agafay desert. A stone's throw away from Riad dar Taliwint, three emblematic museums will offer you large parts of this cultural richness.
Dar Si Said Museum, National Museum of weaving and carpets
Just a few steps from Dar Taliwint, the Dar Si Said Museum has reopened its doors, after restoration, to present its rich collections of carpets and weavings from the Atlas. This 19th century palace is a splendid testimony of rich interior architecture in Marrakech. It is a genuine jewel and one of the most beautiful palaces in Marrakech. Its garden, its decoration enhance this quiet place. The old or more recent carpets and weaving pieces find there an ideal setting.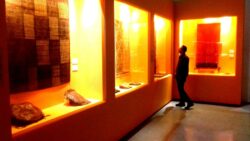 Tiskiwin Museum
In our street, rue de la Bahia, we have the Tiskiwin Museum, home of the Dutch professor and collector Bert Flint who was particularly interested in popular Berber and Saharian art. In the heart of this charming house, this private museum offers a collection of daily objects, pieces of art linked with the traditional housing and the habits and customs of the Berber people.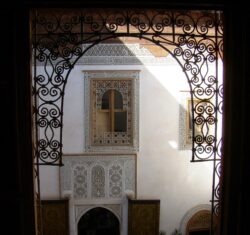 Moroccan Culinary Arts Museum
A few meters away, the Moroccan Culinary Arts Museum, established in two superbly restored riads, gives the opportunity to discover the history of Moroccan cuisine, its Jewish and Berber roots, its tradition, its daily practice, its renewal. …Cooking workshops are also organized there.