AN ELIXIR
The Argan oil is such a successful product! One must admit it is particularly interesting also considering it can be consumed without moderation!
BEAUTY, ETERNAL YOUTH
"Mirror, mirror, tell me how to remain the most beautiful one"
" To remain the most beautiful one, you shall use Argan oil or your mirror shall break"
Good, well said, we are in Morocco and we know all about Argan oil!
Argan oil!
Pronounce this magic formula next to a woman and you will see her eyes glow with excitement.
As a matter of fact, which woman could resist a promise of a soft and young skin, without any wrinkles, of silky hair or fortified and satin like nails?
Besides it is not only beauty that matters, but health too!
When reading the list of all the virtues of this golden liquid, all its benefits for our bones and arteries, you can hardly believe it.
A GENUINE ANTI-EVERYTHING!
In  cosmetics or food form, we find in Argan oil highly moisturizing, healing properties, antioxidant effects, emollient and regenerative actions but also anti inflammatory and pain-relieving effects, cholesterol-lowering and antihypertensive virtues…
The secret of eternal youth has finally been revealed to the world!
Well, in Morocco the exceptionnal qualities of the argan oil have been appreciated by generations of Berber mothers and grandmothers. For centuries they have used it for babys' skin care. The baby's massage ritual with argan oil improves relaxation of muscles and allows to relieve digestive pain while aiding sleep.
Argan oil is recommended to pregnant women or new mothers to treat stretch marks and fissures in nourishing skin and giving good elasticity.
We could add all the benefits for skin problems, chickenpox, burns, eczema, psoriasis, acne…
It is, besides, rich with oily essential acids Omega-9, Omega-6, Vitamin E and F, polyphenols, schottenol ans spinasterol.
Only good things that do good!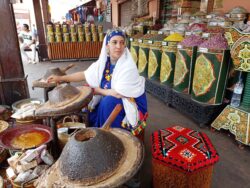 MIRACLES AND SCAMS
First pitfall :
The growing quantity of cosmetic products sold everywhere, pretending to be argan oil based is impressive. But of course, it is obvious that the tiny amounts of it they contain will not allow to benefit from the expected effects.
Second pitfall :
During your stay in Morocco, do not buy the bottles sold in the streets or even at some so-called herbalists who will promote a pure local artisanal oil.
When back home, you could just be able to prepare a good salad dressing!
To offer its full properties, argan oil must be 100 per cent natural and come from Morocco, essentially from Essaouira or Agadir regions.
It is a geological mystery but the argan tree is an endemic species of the country.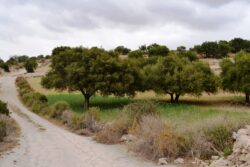 It gives a fruit (which goats adore!), a kind of big almond, which is dried in the sun. We extract the kernels, a core that contains seeds and then we obtain a paste that will be transformed into oil. It will take 100 kilos of fresh fruit to produce a liter of oil, that is to say if the liquid is rare and precious!
The process is carried out by female workers in women's cooperatives, especially in the Essaouira region. To buy their productions means the promotion of the economic and social development of these Moroccan women.
While waiting for the creation of a real label, make sure of the cooperative origin, ensured by a compliant labelling.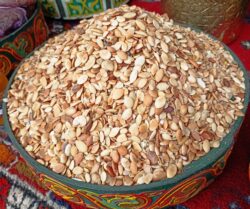 SOME TIPS FOR USE
For soft skin and vascular circulation, it is recommended to use it in body massages and add a few drops to the bath water.
For the face and anti-wrinkle effect, apply in the evening, just before going to bed, leaving on all night.
For hair, the best is an application on all the hair for half an hour before shampooing and rinsing. In summer, in styling oil after exposure to the sun or on the beach, the moisturizing effect on dried hair is immediate.
In winter, a daily application on the hands is ideal.
To fortify the nails once a week, dip them 15 minutes in a mixture of lemon juice and argan oil.

FOOD
Concerning dietary argan oil, it is effective against cholesterol and obesity, excellent for liver and circulation.
Unlike cosmetic oil, it is roasted. Its color is a little more amber and it has a very specific burnt hazelnut taste. It is richer than olive oil in linoleic acid and also in beta-carotene, an antioxidant vitamin.
It is not used for cooking but can be used to flavour a few salads, zucchini or eggplants and potatoes….A dash of oil can be nice on some cheeses, on grilled fish.
Of course it can be included in different tagine recipes and finally in all the ones you imagine.
Now, we are ready for eternal life, and by the way, what works for women works for men, too, right?
I am going to ask my mirror!