Three monuments neighbouring Dar Taliwint
Our house Dar Taliwint is located in the district called Riad Zitoun Jdid, also known as the Bahia district. This is where the Saadian dynasty established itself in its gigantic palace, the Badiî Palace, not far from its cemetery which we call today The Saadian Tombs. This historical area is next to the Jewish district, the mellah.
The Bahia Palace
250 meters from Riad Dar Taliwint, the Bahia Palace is one of the most visited monuments in Marrakech and Morocco. The Grand Vizir Si Moussa had it built from 1866 and the Palace became the largest and most sumptuous of its time, with its 20 000 acres and 150 rooms. The riads and small gardens follow one another and the interior decoration, in a moorish and Islamic style, is just amazing. The Vizir used to live there with his four wives and had a harem of 24 concubines. In 1912, the Marshal Lyautey, the General Resident of France in Morocco, settled there with French army officers, installing electricity and heating. The main courtyard is really unique with its elegant colonnade and its central fountain. It served as a setting for the film Greed in the Sun by Henri Verneuil and Michel Audiard. A famous scene shows Jean-Paul Belmondo and Lino Ventura harshly fighting  around it.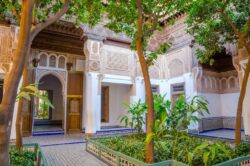 The El Badiî Palace
We continue 200 meters with the El Badiî Palace which dates from 1578 and was destroyed from 1696. It bears witness to the power of the Saadian dynasty. Its impressive and poetic ruins  perfectly allow us to imagine its gigantic proportions, its columns, its mosaics, its gardens, its basins and fountains and its decorative splendor. They evoke the Andalusian palaces and fortresses such as The Alhambra in Granada or the Alcazar in Seville. A large basin of 2000 yards surrounded by four other basins give to the ensemble an extraordinary character. When the Alaouite dynasty took power after the Saadian one, the Sultan Moulay Ismael (1645-1727) had it partially destroyed  and re-used the materials to build its royal city in Meknes. Today, a lot of storks have found permanent refuge there and they placidly observe the visitors.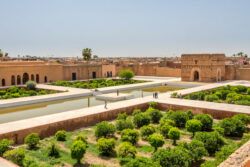 The Saadian Tombs
This necropolis was built in the 16th century to honor the members of the Saadian dynasty and the grandeur of their reign. Ahmed El-Mansour developped the whole garden to bury his parents and, later on, himself. The beauty of its high and majestic rooms, among which the twelve column chamber made of Carrare marble, its loggias, its tombs, covered with zelliges, its carved wooden cupolas, makes it one of the essential monuments of the city of Marrakech, in the Kasbah district.